On November 11th, 1985 The Chamber of Commerce for the Borough of Hawthorne dedicated a Rescue truck to the Borough of Hawthorne. Responding to the needs of the Borough the Chamber purchased a 1985 Ford LN9000 Chassis with an 18ft box from Saulsbury fire apparatus. Later that same month, this Rescue truck was placed into service by the Hawthorne Fire Department.
For many months prior members of the Hawthorne Fire Department worked within the Department and with the Chamber to organize and create a fifth fire company within the Hawthorne Fire Department. This fifth fire company being stationed out of the newly created fire headquarters on Lafayette Ave extension where it still exists.
The founding members of this company came from the existing 3 engine companies and 1 ladder company. The original members of Rescue Co 5 are as follows.
James Aldi, Jr.
Louis Bay 2nd
Louis Renzo
Gordon Knepper
Robert Poelstra
Frank Ferriola
Paul Allen
John Fannin
Peter Terrizzi
Through the years since the company's inception our ranks have grown to include over 20 active members.  The members of Rescue 5 must complete all firefighter classes as directed by the Department as well as a Heavy Rescue program which includes courses in Vehicle extrication, Rope Rescue, Confined Space rescue, Trench Rescue, and both water and ice rescue classes.  The members also complete training in Hazardous Materials operations and other technical rescue classes.  The rescue company is the primary water rescue response for the borough.  A rescue boat has been operated out of Rescue 5 since its inception back in 1985.
Since 1985 the members of Rescue 5 have responded to thousands of calls within the Borough of Hawthorne and in our surrounding communities doing mutual aid with our neighbors.
Rescue Company 5 responds with the Hawthorne Fire Department on all general alarms for the Department.  These include activated fire alarms, carbon monoxide alarms, working fires, hazardous conditions, hazardous materials calls, all water and related incidents, confined space operations and motor vehicle accidents.
Rescue holds between 24 and 36 Drills a year covering all aspects of firefighting and rescue work
Some of the equipment Rescue 5 carries includes,
HURST tools (Jaws of Life)
Spreaders, MOC cutter, Rams, Maverick combination tool
High pressure airbags used to lift heavy objects
Power saws for cutting metal, wood and concrete
Power equipment such as saw-zals, circular saws
Air powered equipment for breaching concrete walls and cutting sheet metal
Torches for cutting through metal
Multi gas meters, Oxygen levels, Carbon monoxide and natural gas
Thermal Imaging cameras
Stokes basket and rope equipment
Rescue 5
Rope Rescue drill using Tower 2
Rappelling and basic rope work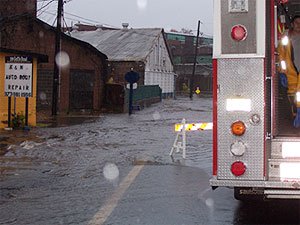 Rescue 5 responds to local flooding within the Borough.
Rescue boat operations on the Passaic River.
17 ft. Achilles inflatable with jet drive outboard Also
8 ft. Mercury inflatable used for local flooding
Rescue 5
Confined Space Rescue Drill Members packaging a patient for removal from a training space
Rescue members preparing another victim for removal
from a confined space, during training exercise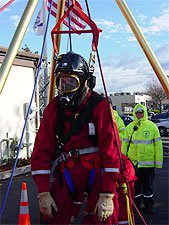 Rescue member prepares to be lowered into a confined space. EMS stands by, ready to receive a victim. Rescue 5 and EMS work hand in hand in many rescue scenarios
Lou Renzo
A founding member of Rescue Co. 5 and the Companies First Asst.
Chief Lou spent over 50 years serving in the Hawthorne Fire Dept.
Motor Vehicle Extrications has been the companies main rescue calls. Here members practice removing injured victims from a vehicle, which was opened up to remove victims without further injury.
Rescue members working at a 3 day extrication class. Vehicle stabilization and new car safety technology were covered in this class.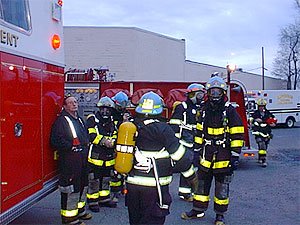 Members of Rescue 5 waiting for assignment at a Building fire drill.
Mutual Aide Drill Hawthorne, Wyckoff and Hawthorne Ambulance
3 vehicles MVA with 4 patients entrapped